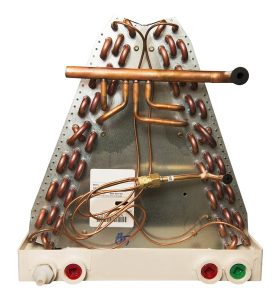 Refrigerant is a chemical blend that can easily shift between liquid and gaseous states. This makes it ideal for air conditioning systems: as the refrigerant moves through the air conditioner, it evaporates indoors to absorb heat and then condenses outdoors to release heat. During this process, the refrigerant never dissipates—the same amount of refrigerant should stay in the AC for the entire life of the cooling system.
But … leaks can happen. An air conditioner won't lose refrigerant over time (this is a common misconception) unless it has leaks along its refrigerant lines or at connection points. To prevent the AC from failing due to low refrigerant, experts must locate the leaks, seal them, and then put back in the amount of refrigerant that was lost.
If you're curious about how these leaks start and if you can do anything to prevent them, follow us below for more information.