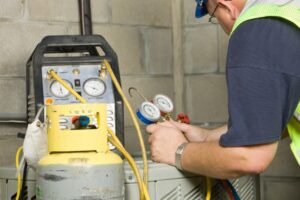 We can handle all types of air conditioning repair in Dunedin, FL whenever our customers have cooling trouble. We'd like to think there's nothing we can't repair, but of course there are times when an AC is too old and worn for a repair to be worth it. In those cases, the best step is to have a new air conditioning system installed.
There is one repair that we can't do. Actually, a repair we're not allowed to do, and that is fix an old R-22 air conditioner that has a refrigerant leak. This is why we strongly recommend that our customers with R-22 air conditioners have them replaced as soon as possible.
Aren't sure what we mean by an "R-22 air conditioner"? We'll explain more below.