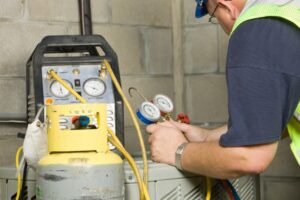 We can handle all types of air conditioning repair in Dunedin, FL whenever our customers have cooling trouble. We'd like to think there's nothing we can't repair, but of course there are times when an AC is too old and worn for a repair to be worth it. In those cases, the best step is to have a new air conditioning system installed.
There is one repair that we can't do. Actually, a repair we're not allowed to do, and that is fix an old R-22 air conditioner that has a refrigerant leak. This is why we strongly recommend that our customers with R-22 air conditioners have them replaced as soon as possible.
Aren't sure what we mean by an "R-22 air conditioner"? We'll explain more below.
What Is R-22?
R-22 is a type of refrigerant blend (a hydrochlorofluorocarbon) that's been used in air conditioners and other refrigeration equipment for many decades. You may know it better as Freon, which is its brand name. The word Freon is so well-known that it gets applied to all types of refrigerants, which can get confusing for a non-professional. We'll stick to R-22 from here.
Because R-22 releases ozone-depleting emissions, it has been gradually phased out of production and use in the US and the rest of the world. This phase-out was completed in January 2022. At this point, R-22 can no longer be manufactured in the US, and HVAC technicians are not permitted to use the remaining stockpiles of the refrigerant or recycled R-22 to repair malfunctioning air conditioners or heat pumps. 
So the lowdown is that if you have an air conditioning system that uses R-22, we can't fix it if it starts leaking.
How Can I Tell If I Have an R-22 Air Conditioner?
This is easy. First, if your AC is less than 10 years old, it wasn't manufactured to use R-22. As part of the phase-out, the US Environmental Protection Agency banned the manufacture and installation of new R-22 air conditioners and heat pumps in 2010. But the manufacture of R-22 air conditioners was already slowing down before this, so even if you have a 15-year-old AC, it probably doesn't use R-22.
You can check the outside cabinet to find out for certain. On the information plate on the condenser, you'll find a listing for the refrigerant. If it says "R-22," "HCFC-22," or just "22," you've got an outdated AC. If it says "R-410A," you're in good shape (as far as refrigerants go at least).
Making the Change
Even if you could have your R-22 air conditioner repaired, you're still much better off replacing it. It's probably already too old a system, and R-22 is a less energy-efficient refrigerant than the blend that replaced it, R-410A (also called by its brand name, Puron). R-410A is better for the environment and safer for you and your family.
Making the upgrade to a new R-410A air conditioning system is simple when you work with us. We offer a 100% money-back guarantee within 12 months for new AC Installation.
Call on The A/C Guy of Tampa Bay Inc for a new air conditioning installation. Serving our Tampa Bay family with integrity and honor.