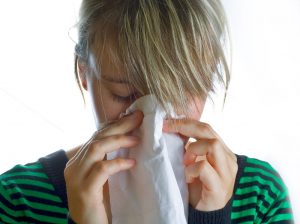 If you've thought about getting a whole-house air purifier in St. Petersburg, FL, this blog can give you some help in making the choice. We honestly think most homes will benefit from some type of air purification or air filtration system, but you might still be on the fence about it. We'll look at signs in your house that indicate a high level of indoor pollutants and contaminants that an air purifier can reduce.
Odors seem to linger for a long time
One of the most powerful effects of an air purifier is the elimination of odor-causing molecules and odor-emitting bacteria. If you've noticed that smells in your house seem to linger for too long (for example, the odors from cooking), then it likely means the ventilation system isn't effectively removing them. An air purifier can be a huge help here.
Allergy season is especially bad
When allergy season starts, does it seem that closing off your home as much as possible to the outdoors doesn't do a lot of good? This is probably because there are already too many allergens trapped inside the home moving through the HVAC system. There are different types of air purification systems that target allergens and can make your home much more tolerable for people with asthma and allergies.
You aren't sleeping well at night
If you don't suffer from insomnia normally, but have started to encounter sleeping difficulties combined with snoring, you may be getting a warning from the house that the air is filled with pollutants. The airborne pollutants are causing congestion while you try to sleep. If you tend to wake up each morning with a congested nose, it's a good idea to look into air cleaning options.
Illnesses spread rapidly through your home
Does the annual flu and cold season really seem to tear through your household? Air purifiers, in particular UV germicidal lights, can slow this down and significantly reduce the transmission of viruses and germs. The technology of air purification to combat viruses has made some huge leaps recently, so an air purifier is something to look into if you've got "sick house syndrome."
You have a whole-house air filter that isn't doing the full job
We definitely recommend homeowners looking to improve their indoor air quality start with having a whole-house air filtration system installed. These filters are the most cost-effective way to stop the movement of larger contaminants such as dust, lint, dander, and pollen. Filters have upper limits in homes, however: they can't be too strong, or else they'll block airflow as well. Your house may have the strongest possible filter and it will still allow smaller pollutants to get through. So if you have a whole-house filter and are running into the issues above, it's best to add an air purifier.
We offer many options to improve indoor air quality, from air filters and purifiers to humidity control and energy recovery ventilators. Feel free to ask us any questions you may have about boosting your home's indoor air quality.
The A/C Guy of Tampa Bay Inc. serves our Tampa Bay family with integrity and honor. If you think your house requires an air purifier, reach out to us and we can help.