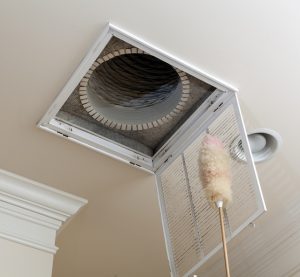 Some of us are lucky enough to rarely suffer the effects of seasonal or indoor allergies. The rest of us have to find ways to deal with them, such as with daily allergy medication or a strict house-cleaning routine. But no matter which category you fall into, indoor air quality may be a major risk to your health, whether you know it or not.
Every home with a central AC or heating system can likely be improved with an indoor air quality system. Your local technicians probably have a solution for you. Take a look at some of the products we install for other homes in Dunedin, FL, and start taking control of your indoor air quality for better health and comfort today.
High-Efficiency Media Filters
We are huge advocates of changing the air filter every month, but high-efficiency media filters may only need to be changed once every few months. A HEPA (high-efficiency particulate air) filter is able to catch a far greater number of particles in the air, including common allergens and some bacteria.
HEPA filters are not actually right for every HVAC system, which is why it's important to contact a technician first. However, a separate media filter and air purifier combination may provide the solution you need.
UV Lights
Ultraviolet lights are commonly installed in the HVAC systems of hospitals, laboratories, and the homes of those looking to prevent illness or keep an autoimmune disorder under control. These are fairly easy to get into most systems. They can kill and sterilize germs on contact as they pass through the HVAC system, making the air safer to breathe.
There is also the option of PCO UV lights. PCO stands for photocatalytic oxidation, and it's what happens when you mix a UV filter with an air filter coated with titanium oxide. In short, a PCO system can break down a contaminant into its base components, pulverizing contaminants until they are only water and oxygen.
Dehumidifiers
High levels of humidity can make us uncomfortable, especially in Florida where it's warm and humid for most of the year. You are unable to sweat easily and release heat when the air is full of moisture, so you feel hotter in higher humidity.
Plus, humidity can lead to mold growth in a home, which can be dangerous to those with allergies or asthma (and even people without these preexisting illnesses). A whole-house dehumidifier, combined with your central AC, is your best defense.
Energy Recovery Ventilators (ERVs)
Finally, a product we'd like to highlight for those looking for improved indoor air quality is the energy recovery ventilator. One of the problems with running the air conditioner is that you have to shut all the windows and doors in the house, which means you don't get any fresh air.
Fresh air is important for your respiratory system, but you don't want to raise your AC bills by cracking open a window. Energy recovery ventilators solve this problem, letting in fresh air while cooling/heating it to avoid energy waste.
For further information about these and other products, contact The A/C Guy of Tampa Bay Inc. We install and service air conditioners in Dunedin, FL.