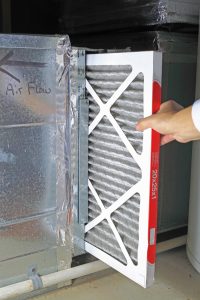 If you're not sure how often you need to change the air filter in your home—and you're not even sure why it's so important—you're not alone. To be honest, most of the people we talk to about the air filters that serve their air conditioning systems (and heaters) are misinformed about many aspects of their purpose and how to maintain them.
Today, we want to clear up some misconceptions. Changing the filter regularly can actually help to prevent air conditioning repair. Our repair technicians hate to see repairs that could have been prevented, which is why we feel it's our duty to help.
Why Change the Filter
First, we want to make sure you understand what makes this job such an important one. Most people think of the air filter as something that keeps dust out of the air; something designed to reduce allergens throughout the home. In part, this is true. But this leads to a way of thinking that may stop you from changing the filter when you really need it.
The actual purpose of a filter is to protect your air conditioner—unless it is dirty. A filter that is clogged with dirt and dust will block airflow from moving throughout the home. This causes a number of problems, which is why it's so important to regularly change your filter:
Discomfort
High energy bills
AC repairs
Premature failure
The Standard Filter
The typical air filter has a 1" base. This type of filter tends to have a rating of about 1–4 on the MERV scale (minimum efficiency reporting value), which means it's basic function is to protect the air conditioner. (It won't do much to block allergens.)
The standard air filter with a 1" base should be replaced with a new filter every 30–60 days. Otherwise, it can quickly clog up with debris that keeps it from doing its job. Also, in case you have trouble locating your filter, take note that while it may be underneath the vent of your return grille, it could also be located at the inlet to the air handler.
High-Grade Filters
Filters further along in the MERV scale may be more effective and less likely to get clogged up quickly. A better grade of 1" filter should be replaced every 90 days (3 months). A high-end media filter with a 5" base, however, can be replaced annually. On the other hand, if you have pets or the filter is otherwise known to collect dust quickly, you may want to wait closer to 6 months.
Reusable Filters
Finally, you may have a reusable filter in place for your air conditioner. We should mention that this type of filter has some advantages and disadvantages. The advantage is that you don't have to buy new ones; but keep in mind that reusable filters are more likely to develop mold and bacteria that can circulate back into the home. If you do have a reusable filter in place, be sure to vacuum, rinse, and dry it completely before replacing every month or two. Replace the filter after about 5–7 years.
The A/C Guy of Tampa Bay Inc. installs and services air conditioners in Clearwater, FL. Contact our team today.