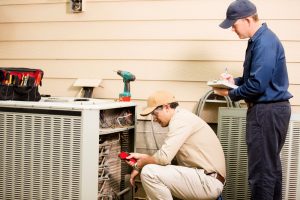 A central air conditioning system is a complex piece of machinery, but it's also built tough. It's designed to take on the wear and tear that collects over the years—to an extent. But some wear and tear is largely preventable, and only adds unnecessary strain to your AC.
Proper air conditioning maintenance is important, as we'll show you in today's guide. And it's easier to have done than you may think—when you work with a qualified team of technicians. Learn how and why to keep your air conditioner in the best condition possible today.
What Professional Maintenance Involves
Professional air conditioning maintenance is a service during which a technician spends time evaluating the system, first and foremost. Problems in an air conditioner can remain hidden for a long period of time, only showing minimal signs within your home. A technician does a complete inspection, knowing just what to look for and using voltage testers, refrigerant analyzers, and more to do the job.
Then, there's the tune-up. While larger repairs may need to be rescheduled for a later date or time, some small adjustments can be made on the spot. Technicians may clean the coils, tighten connections, or even adjust a few screws, but all of this can help the system to run more smoothly.
How You Save
The most important reason to maintain an air conditioner is how much money you'll save. Of course, the maintenance will cost you, but this is minimal compared to the long-term savings (especially when you join a maintenance plan, but we'll get to that later). Here's how you save when your air conditioner is maintained each year:
Monthly bills may be lower when your air conditioner is well-tuned.
You may not need to make as many costly repairs over the service life of your AC.
Air conditioners that receive regular maintenance tend to have longer lifespans, which means you save on replacement.
Saving money is one thing. Saving yourself a headache is another. By scheduling regular maintenance, you're less likely to have to deal with a stressful AC repairs throughout the year.
The Importance of Joining a Maintenance Program
Regular maintenance helps to extend the life of your air conditioning system and keep it running smoothly. But it's easy to forget to schedule the service each year. A maintenance program helps remedy this.
Maintenance plans typically include one or two tune-ups per year. They are built into your plan, so you don't have to worry about forgetting to call a technician to schedule one. Many local companies offer maintenance programs—but some offer more benefits than others.
For example, our maintenance plans come with:
A 10% discounts on repairs
Reduced diagnostic fees
No overtime charges
You save even more, and you know your air conditioner is protected throughout the year. This is even more important in our service area, where air conditioners see a lot of use over the year—not just during a single season.
Keep your air conditioner running smoothly for longer with The A/C Guy of Tampa Bay Inc. We install and service air conditioners in Tampa, FL.