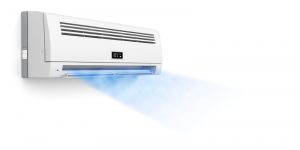 Using ductless air conditioning in Tampa, FL is a popular choice for many homeowners. Ductless systems are common in Europe and Japan—in fact, more common than standard split system air conditioners—and over the last decade have made a major impact in the US for both homes and businesses. They aren't universal yet, however, so we're going to go over times when installing a ductless heating and cooling system is a sensible move. You can speak to our HVAC experts for more information about ductless mini splits and when they can be the best benefit to a home.
ONE: Old homes without any ductwork
Central air conditioning systems only became common in homes during the 1970s. Before that, the most affordable way for a house to enjoy electro-mechanical air conditioner was using window units. Homes weren't constructed with ductwork in mind, and this makes it difficult to upgrade an older house for central air conditioning. The arrival of the ductless mini split gave these homes a better choice than window air units. If your home has always required window air conditioners for comfort, we recommend having a ductless mini split heat pump installed—you'll have cooling all around the house without blocking windows or needing an inch of ductwork.
TWO: Remodeling or a new home construction
Are you considering making major changes to your house? Or are you planning to build a house to your specifications? If you skip the standard ducted AC and furnace system and instead use a ductless mini split heat pump, you'll have much greater design freedom and more living space available. Ductless mini splits can fully handle the weather in Tampa Bay and won't struggle with our mild winter temperatures.
THREE: The add-on room
Expanding a home with an add-on room allows a house to grow with its residents. A new bedroom, a study, a den—there are plenty of options. But how will you cool and heat this new room? Trying to hook it into the existing HVAC system may require larger changes to the system to accommodate the space. Using a ductless mini split for the new room allows you to leave the rest of the HVAC system alone.
FOUR: The hard-to-cool-and-heat space
A house may have parts of it that require better heating and cooling. For example, if you decide to convert your garage to a work or living space, or wish to make better use of the attic. These spaces are normally cooled or heated. A ductless mini split is a great short-cut for fixing this cooling dilemma.
FIVE: Better allergy and asthma control
If there are occupants in your home who suffer from allergy and asthma problems, a ductless mini split can make a major difference. Dust and other pollutants easily build up inside the ductwork, where it is blasted out into the living spaces each time the HVAC system fan turns on. Ductless systems don't blow around these pollutants, helping to create cleaner, healthier air.
The A/C Guy of Tampa Bay Inc. Serving our Tampa Bay family with integrity and honor. Speak to us about HVAC installation services.