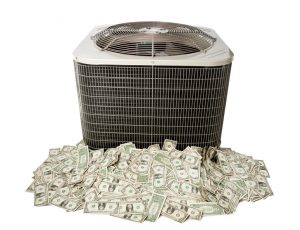 When shopping for nearly any electronic these days, you'll find some kind of information about its energy efficiency as you compare products. Washing machines, TVs, and even landlines and fax machines may all carry the ENERGY STAR label, which shows that a system has met the energy requirements set forth by the EPA.
Air conditioners can also earn the ENERGY STAR label, but this only means that the system has met the minimum requirements to be considered "energy efficient." If you live in Florida, you need more than the bare minimum. That's why it's so useful to look at the SEER.
What Is SEER?
SEER stands for Seasonal Energy Efficiency Ratio. This is a measurement of typical cooling output during the cooling season. In other parts of the country, the minimum SEER for all air conditioners installed in the region is 13. However, air conditioners and heat pumps installed in Florida and throughout warmer climates must have a minimum 14 SEER.
It's tough to say what the maximum SEER is, as new technology is improving the efficiency of systems every day. You're unlikely to find a SEER rating much higher than 20, although we hope to see more systems of 30 or even higher in the near future. These super high-efficiency ACs are currently under development.
What Makes SEER an Effective Measurement?
When buying a new cooling system, you might notice two measurements: the SEER and the EER. The SEER is calculated in a way that's similar to the EER (energy efficiency ratio) in that cooling output per BTU is measured for a cooling season. The difference is that the EER measures efficiency at only one outdoor temperature, where as the SEER allows for a measurement of efficiency at different temperatures throughout the year.
Do You Need the Highest Efficiency Rating?
Of course, the higher the efficiency rating the higher the price you can expect. We recommend getting the highest efficiency system you can afford, but your bills also depend on a few other factors, such as how well you care for your system and whether or not you change the filter regularly. In Florida, we recommend a SEER of at least 15, although higher is preferable—but we also emphasize proper maintenance and efficient thermostat use, which can be just as important.
SEER Ratings and Sizing
We should also note that you must choose a system within your size range, first and foremost. Don't settle for a higher SEER rating in a smaller size than you need, as this will likely result in the early demise of your system.
Air conditioners that are too small struggle to sufficiently cool the space. This forces them to become overworked and to wear down much too quickly. A system that is too large is not much better, as it's in danger of short cycling. This is just one more reason always to trust an experienced team with your AC installation.
For air conditioning installation in Tampa, FL you can count on The A/C Guy of Tampa Bay Inc.