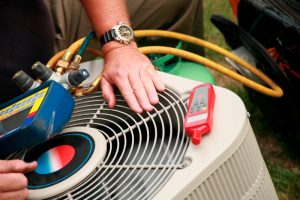 "Does it just need more Freon?" is a question we hear quite frequently from our customers when the air conditioner is not working quite right. Yes, sometimes an air conditioner does need more refrigerant (the generic name for the chemical blend in your air conditioner). However, it's usually much more than that, requiring sealing or a refrigerant leak—or a different problem altogether.
If your technician tells you that one of these 4 repairs is needed, you may be surprised. But it's all too common for us!
Frozen Coils
You might actually have no concern upon hearing or noticing that a part of your air conditioner is frozen. After all, the process of refrigeration used in air conditioning is bound to produce some ice, right? But this really means something is wrong within your system, and it could be serious.
Frozen coils result from one of two core issues: a lack of heat flowing over the coils or a lack of refrigerant running through them to absorb heat. If there is not enough warm air moving over the coils, there could be a problem with the blower fan or even just a dirty filter. If there is not enough refrigerant, a technician should seal the leak in your system.
Cleaning Dirt and Other Substances
It might be frustrating to call in technicians about your malfunctioning AC system, only to find out that your problem was caused by a bit of dirt. That's why you should change the air filters before calling in technician if high temperatures or low airflow is the problem. However, a technician is the most qualified person to clean dirt out of blower fans and off the outdoor coil, where it easily collects and interferes with heat exchange.
What's even more surprising is when more than dirt is found in the outside coil. For example, many technicians have found giant ant colonies, hives, or even snakes in outside condenser units…yikes!
A Worn Capacitor
When your air conditioner shuts off completely, you might assume the worst. But the actual diagnosis can come as a happy surprise. If it's just a worn-out capacitor—something that happens frequently—you probably don't have much to worry about in terms of your air conditioning system's livelihood. And, thankfully, it's an inexpensive part to replace, and something easy to find. If the capacitor keeps giving out, however, you might have a problem with your electrical wiring.
Improper Thermostat Usage
Unfortunately, we often show up and have to break the bad news to a customer: they've just had the thermostat set incorrectly. If this happens to you, don't be embarrassed! Get to know your thermostat via the manual or with help from the technician.
Or, consider upgrading to a thermostat that offers what you need. Today's smart thermostats make it easier than ever to monitor temperatures in the home, adapting to your schedule for automatic adjustments and allowing you to change and monitor temperatures from an easy-to-use screen and from your smart phone.
For air conditioning repair in Tampa, FL, contact The A/C Guy of Tampa Bay Inc.