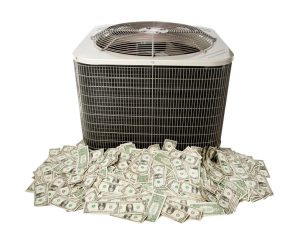 We can't answer this question for you, not in a blog post. But if you are in the position of considering replacing your current mid-efficiency air conditioner with a high-efficiency one, we can help you with the decision. When it comes to an AC installation, you always want the assistance of professionals from early in the process. You must have pros to put the system in place and connect it so it works its best (as well as dispose of the previous unit). But you also need them to help you pick the ideal new AC for your needs and see that it's correctly sized.
So let's talk a bit about high-efficiency air conditioners. When you're ready to take the next step, call our team for air conditioning service in Oldsmar, FL and we'll get you headed in the right direction.
The Efficiency Improvement of the High-Efficiency AC
How much more efficient is a high-efficiency air conditioner? That depends on what AC you currently have. Right now, the requirement for a central AC to earn the ENERGY STAR label from the Department of Energy is 15 SEER (seasonal energy efficiency rating) or higher. A 15 SEER air conditioner would be considered a mid-efficiency unit. If you've had your AC for more than 10 years, then you may have a 13 SEER unit, which was the ENERGY STAR standard for many years. High-efficiency air conditioners have SEER that can go up to 22. This is a substantial difference compared to 15 SEER and an enormous one compared to 13 SEER—so this upgrade can make a large change in the energy efficiency in your home.
A Caution About High-Efficiency Ratings
Here's where we need to step back a bit with a reminder about energy efficiency ratings: SEER is the maximum efficiency rating, not how the AC will always operate. On some days, an AC that has 22 SEER will only work at 16 SEER, for example. The high rating is not a guarantee of constant savings, only the potential for savings and better performance.
This is why working with professionals is vital: we can help you get a system that delivers the efficient results you want. Sometimes, a lower SEER air conditioner may help you better save money. Another point to keep in mind is that high-efficiency systems are more expensive to purchase upfront than mid-efficiency ones. 
Additional Benefits
You may receive other advantages from a high-efficiency system than just energy savings. These air conditioners can provide a more even spread of comfort thanks to their variable speed fans and multi-stage compressors. They often run at lower sound volumes. These benefits may make the installation more appealing.
We'll Help You Enjoy Terrific Cooling
Now that you're equipped with some more information about high-efficiency air conditioners, you may be leaning one way or the other on the question in the title. We're ready to see that you make the best decision, and then have the right new cooling system in place for the coming summer weather.
The A/C Guy of Tampa Bay Inc. serves our Tampa Bay family with integrity and honor. Call us to find out more about your options for a new AC installation.