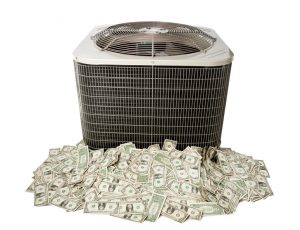 The cost of heating a home in Florida during the year can be steep. Not only do we have intensely hot summers, we also have high humidity that makes it even hard for people to stay cool. Our summers are also long, with hot weather stretching through both spring and fall.
We can't work any magic that will make cooling your home free. But we can offer some advice about lowering how much it costs to get through a summer with your air conditioning in Tampa, FL. You may not have realized the way energy goes to waste and what you can do to turn it around.
Always have spring AC maintenance
Always, always, always. If you only take away one tip from this post, make it this one: schedule AC maintenance before the main heat of the year arrives. AC maintenance does many great things for your cooling system, such as increase its longevity and prevent repairs. It also stops the AC from losing energy efficiency and becoming much more costly to run. Keeping up with maintenance will help your AC work at 95% of its original efficiency for most of its service life.
Set the thermostat for 78°F during the day
It's easy to fall into the trap of thinking that whenever the house feels too hot, you should push the thermostat lower. But the best thermostat setting is a steady one, which prevents the AC from turning on and off too frequently and draining power. The steady temperature we recommend (as does the US Department of Energy) is 78°F. This temperature is comfortable for most people, and it's high enough to slow down how fast heat enters the house. If you find it's too warm, set the thermostat a few degrees lower, and then raise it one degree per day until people acclimatize to 78°F.
Raise the thermostat at night
Raise your thermostat setting by 8°F at night (i.e. around 86°F) to further save energy. You don't need as much cooling when you're asleep. This is also better than shutting the AC down entirely because it means less energy expended later when the AC has to start warming the house up for the day. We also recommend this setting for when you're away from home.
Change the air filter every 1–3 months
The air filter in the AC will clog after one to three months (depending on the thickness of the filter) and this will cause cooling costs to spike as the blower fan struggles to pull air through the filter. Keep up with a regular air filter change schedule through not only the summer, but the year, and you'll avoid unnecessary steep rises in cooling costs.
Install a whole-house dehumidifier
We can install a whole-house dehumidifier for your home that will help tremendously with comfort. If indoor humidity is too high, the house will feel around 8°F hotter than it is, making it necessary to run the AC more often. A dehumidifier makes for a cooler home with lower bills—plus no water damage and less chance of mold growth. 
Call The A/C Guy of Tampa Bay Inc. for air conditioning service. Serving our Tampa Bay family with integrity and honor.