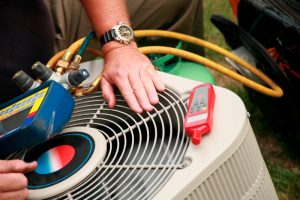 When you start thinking about preparing your home for the approaching summer weather, the air conditioning system needs to receive special attention. It's difficult to manage being indoors during the summer weather if a house isn't equipped with a powerful central air conditioning system—and a reliable system as well. Power and reliability are what you most want from your AC during the summer season, with energy efficiency coming close behind. (Honestly, if power and reliability are in trouble, then energy efficiency almost certainly is as well, so they're all linked.)
When you take an assessment of the AC, you may decide you need an air conditioning replacement in Palm Harbor, FL. Or maybe to schedule repair service for something wrong you noticed before. Let's go a bit deeper into how you can analyze your air conditioning needs.
First, schedule maintenance if you haven't already
This is a pre-requisite in the spring. The maintenance inspection and tune-up are essential for getting a cooling system to run at peak condition throughout the coming season. Your AC will have much better reliability when it's gone through maintenance. Call us to inquire about our VIP Membership and the maintenance that comes with it.
Consider the air conditioner's age
If you don't know how long you've had the air conditioner (the previous homeowner may have installed it), check on the outdoor condenser cabinet, where a plate will list the manufacturer's date. An air conditioning system on average lasts about 10 to 15 years, and getting to 15 is common if the system has routine maintenance and repairs done promptly as needed. If your AC is over 15 years, we recommend having an assessment of the system, which can be done during maintenance, to determine if it's more cost-effective to have it replaced rather than continue to use it for another season.
Think about your cooling costs
Has it cost more over the previous summers to cool your house than before? If the answer is "yes," can you account for that through increased electrical costs, more people living in the house, or any other reason to run the AC for longer? If you can't put a finger on the cost increase, you may have an AC with a hidden repair issue you haven't noticed, or one that's in permanent decline. Get the experts in to look at the problem.
See if everything seems fine with a test run
If you haven't had the AC on for a few weeks, turn it on and give it about an hour to run. Walk around the house and check on the even distribution of cooling. Listen for any odd noises from the AC cabinets, and watch for odd smells from the vents. Check that the AC cycles on and off normally, using at least 15 minutes of cooling cycle time before it shuts down. Check to see if the air filter needs to be changed for a clean one. If you notice anything amiss during this test, you'll probably need a repair before the heat arrives.
The A/C Guy of Tampa Bay Inc. serves our Tampa Bay family with integrity and honor! Call us whenever you need air conditioning assistance.