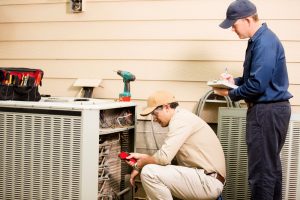 Air conditioning maintenance in Clearwater, FL and throughout the Tampa Bay area is necessary every spring. The summers in Florida are taxing for air conditioning systems, so they need to have a proper tune-up and inspection before they start going to work. It's similar to the way a car requires a tune-up and check before a long road trip.
We want all our customers to have AC maintenance in the spring—there's nothing better for an air conditioner. To make it easier for our customers, we offer our special VIP Club, which includes a full system cleaning each year, and a second visit for a tune-up six months later.
How the VIP Club Will Benefit You
The main benefits of joining the VIP Club are simple: you get great AC maintenance each year! These regular inspections, tune-ups, and cleanings are a great investment in your air conditioner that pays you back in many ways:
Keep the warranty in place: You don't want to let your warranty protection to be voided, and most warranties require annual professional maintenance.
Peak energy efficiency: An air conditioner suffers extreme stress each Florida summer, and this will lead to it losing energy efficiency. Rather than watch your cooling bills rise from year to year, keep current with AC maintenance. You'll save around 20% to 40% over the lifetime of the unit.
Extended lifespan: Speaking of which, an AC will only reach its maximum effective service life if it has regular maintenance. When you're part of our VIP Club, you can get your air conditioner to 10 or even 15 years of service.
Reliable performance: An air conditioner that fails in the middle of a hot summer day is bad news. There is a low chance of that happening if the system received quality maintenance during the spring.
Fewer repairs: Around 85% of the repairs an air conditioner may need during its service life can be prevented with annual maintenance.
These are just the benefits of having a spring tune-up and inspection for your AC through the VIP Club. We offer you these additional benefits as long as you're a member.
A 20% discount on repairs.
Priority service—you can jump to the front of the line when your AC needs repairs.
No overtime/after-hours fees.
Reduced service call diagnostic fees.
Lifetime repair guarantee on many repairs (terms apply).
Inflation protection: Once you're a member, the membership fee is guaranteed to stay the same (unless you cancel) no matter if the membership price rises.
Our technicians always do a thorough job when inspecting and cleaning air conditioning systems. They check the refrigerant levels, inspect and clean the condenser coil, clean the condensate drain, lubricate parts that need it, test system functions, verify electrical components, inspect the blower assembly, and identify any irregularities so you can schedule service to have them fixed.
Want to find out more details about the VIP Club, or you want to sign up and schedule your AC visit? Give us a call today and we'll take care of everything.
Call The A/C Guy of Tampa Bay Inc. to schedule AC maintenance. We serve Pinellas, Pasco, and Hillsborough Counties.