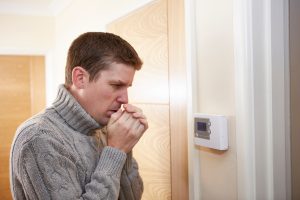 We're getting more cold weather this season than usual for Florida, so we hope you remembered to have annual heater service in Clearwater, FL through our maintenance plan. (If you haven't, it's not too late to sign up!) Maintenance can stop the majority of heater malfunctions, but not all of them. You may run into that most dreaded of all heating problems: a heater that won't turn on.
When this happens, you don't need to panic. If your furnace or heat pump needs professional repairs, all you have to do is call The A/C Guy of Tampa Bay and we'll see the problem is fixed. Before you call us, however, you can go through several troubleshooting steps. The heating system may not have as big a problem as it at first seems, and going through these checks may get the system working again.
Check the thermostat
Seems like an obvious move, doesn't it? But when you're panicked about a failed heating system, you overlook the obvious first. Check that the settings for the thermostat are correct: someone else in the house may have changed them. If this is a new, digital thermostat, make sure you know how to set it—there may be a feature you're unaware of.
Check the heater's switch
Many heating systems, particularly gas furnaces, have their own shut-off switch so they can be turned off for the season. Sometimes after a repair service, this switch may be left off, and this will stop the heating system from coming on. It's also possible someone in the house flipped the switch without knowing what it is.
Check the electrical panel
The heating system may not be coming on because it tripped its circuit breaker. (Yes, this applies to gas furnaces as well, which use an electrically powered blower fan and several other electrical components to run.) Check on the home's electrical panel for a tripped breaker. Reset the breaker and try the heater again. If the heater keeps tripping the breaker, call for repairs as there's likely an electrical fault in the HVAC system.
Change a clogged filter
Furnaces and heat pumps have a filter on their indoor cabinet to prevent dust and debris from getting inside through the return air ducts. This filter needs regular changes or else it will become excessively clogged and reduce airflow. This can cause the HVAC system to overheat and trigger a limit switch to shut it down. It can also be the source of the blower fan overheating and tripping the circuit breaker. Put in a clean filter to see if this fixes the problem (and change the filter every 1 to 3 months to prevent this problem in the future).
If none of these steps gets your heater back to work, then don't attempt any further work on the heating system. You must leave the actual repairs to licensed professionals, who can get the heater back in shape quickly, accurately, and most importantly of all, safely.
The A/C Guy of Tampa Bay Inc. serves our Tampa Bay family with integrity and honor. Call us for help when you can't get your heating system to work.