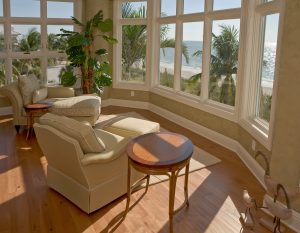 We all know how draining the effects of high humidity can be. If you live in Florida, you deal with it all the time. You're thankful to have a central air conditioning system to come home to on a hot, humid day. But is this really the solution your home deserves?
A whole-house dehumidifier that works with your air conditioning system may be the better choice. We know that many homeowners keep portable dehumidifiers around the house, but this just isn't the same. It's time to consider a whole-house approach for better comfort, air quality, and energy savings. Learn more about these benefits below, and call our team when you're ready for a new installation.
Saves You Money
First, a whole-house dehumidifier can save you quite a bit of money over the years. Running an air conditioner can dehumidify your home, but at a cost. Typically, in order to get the dehumidification you need from your air conditioner, you have to set the temperature lower than you are comfortable with. That removes moisture from the air but uses up a lot of energy.
A dehumidifier costs less to run than an air conditioner. In fact, in many cases, on a day with mild temperatures but high humidity levels, people find they can run the dehumidifier without turning on the air conditioner at all.
Reduces the Strain on the AC
When you don't have a dehumidifier, you can run your air conditioner excessively, wearing out many of the components. The air conditioner has to continuously cycle when trying to rid the home of humidity, which can lead to premature failure in some cases.
Excessive humidity could also make it more likely that the indoor coil will freeze, something that can be harmful to the air conditioner. A dehumidifier helps to prevent freezing along with moisture overflow in the condensate drain that could damage your home.
Keeps You Comfortable
A dehumidifier is an excellent way to stay comfortable when humidity levels seem out of control. It helps you to relax without breaking a sweat. And whole-house dehumidifiers are the way to go. They work with your air conditioner, meaning they can usually be controlled with your home's central thermostat. The convenience and comfort are unmatched by portable dehumidifiers. In Florida, homeowners with whole-house dehumidifiers are far more comfortable than those without!
Improves Air Quality
Finally, a whole-house dehumidifier can improve the quality of the air in your home. High levels of humidity can make you feel overheated as it's more difficult for sweat to evaporate into the air. This isn't the only health effect associated with high levels of water vapor in the air.
When humidity levels are high, moisture can build up on the coils of your AC system, in the ducts, and throughout the home. This makes it more likely for mold and mildew to develop. Running your dehumidifier, and keeping it clean and maintained, helps to prevent illnesses and lung irritation.
Just contact The A/C Guy of Tampa Bay Inc. when you're ready to talk about dehumidifier options in Tampa, FL.