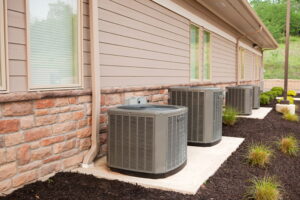 A new AC installation in St. Petersburg, FL can be a big deal for your house. We live in a warm and humid climate where air conditioners are essential almost year-round. When you're planning on getting a new air conditioner, either to replace an older one or as the first AC for a house, you don't want to rush into grabbing just anything. We recommend you start working early with our technicians so we can assist you with selecting the unit to meet your needs. We're here to do more than just put the new AC in place—we want to see you have the right cooling that will last for years and help you lower energy costs.
As you start the process of getting a new air conditioner, ask yourself the following questions. They'll help you focus on what you need the most from your new cooling system.
"Was there anything I didn't like about my old AC?"
If you're replacing an air conditioner, think about its general performance over the years. During the time it was in its best shape, was there anything about it that still dissatisfied you? Possibilities include:
It never got all the rooms of the house cool enough, such as an upstairs that was always too warm.
You thought it cost more to run than it should.
It was too noisy.
It created temperature fluctuations.
Bring up these concerns with your installers. This will help them find out idiosyncrasies about cooling your house that will make it easier to find a great new unit.
"Is a heat pump a good alternative to an AC?"
Heat pumps are similar to central air conditioners with one major change: they can switch the direction they operate so they can also heat a home. Heat pumps are excellent for the Florida climate and can help save money if they replace an electric furnace. We recommend considering a heat pump if you have an aging heating system that might be ready to retire along with the air conditioner.
"Do I want to invest in a high-efficiency AC?"
The technology of air conditioning continues to advance, and there are many models today with astonishing energy efficiency ratings. If your old AC has an efficiency rating around 13–15 SEER, you have some options for ACs with SEER in the 20s. This change can make a big difference in how much you pay to cool your house. Many high-efficiency air conditioners are equipped with variable speed fans and multi-stage compressors that not only help with efficiency but also reduce temperature fluctuations, improve cooling distribution, and lower noise levels. 
However, higher efficiency air conditioning systems have higher price tags as well—these ACs are long-term investments. Our professionals can help you balance out the various factors to locate the right new unit.
"When should I call the A/C Guy of Tampa Bay to help?"
Now. Right now is great! It's December, and we have a less crowded schedule with AC emergencies, so we're ready to get to work with you.
The A/C Guy of Tampa Bay Inc. serves our Tampa Bay family with integrity and honor. Schedule service today for the best in new air conditioning installation.