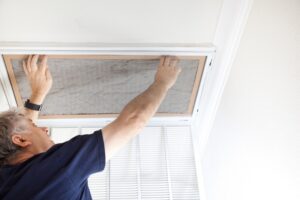 Mold causes a number of health issues, including respiratory problems, allergic reactions, and can even cause property damage if left unchecked. Mold grows in small damp spaces devoid of any light, and that perfect breeding ground for mold growth could be your AC ductwork.
Mold impacts air quality for everyone in your home. Let's discuss how you can find out if your AC has mold and what you can do about it. You may just have to schedule AC repair in Tampa, FL if it's bad enough.
Common Signs That There's Mold in Your AC
Your air conditioner gives off a few telltale signs that mold is growing or that it's already a problem. First of all, you will be able to smell it when the problem gets bad enough. Turning on your air conditioner will release a musty odor into the rooms you're trying to cool.
Another way to tell is by checking your air filters. Mold can pop up within the fibers of the filter itself, or around the edges of where your filter resides.
If you've noticed that you and your family appear to be getting sick more often, it could be due to breathing in mold. This is only the start of a potentially dangerous problem.
What to Do When There's Mold in Your AC
Start by finding out how much damage there is. Remove the air filter and use a flashlight to peer into your air intake duct for your AC. Do you see anything? Is it within reach and can be cleaned? Start by replacing your air filter and cleaning up any mold you see. Be sure to use appropriate cleaners and wear PPE to keep yourself safe.
To see if it's gone further than your air intake, inspect the vents throughout your home. Use a flashlight and check for mold around the vents and in any visible ductwork. At this point mold may have spread throughout all of your ducts. That's when you know it's time to call in a professional.
You May Have to Replace Your Ductwork
Mold spreads fast and continues to grow unless you root all of it out. Depending on how much has accumulated, replacing your affected ductwork is the best solution. This can remove all signs of mold growth and prevent it in the future.
Mold growth can spread outside of your ductwork if it isn't sealed properly. The best-case scenario is that mold is confined to your ducts and that replacing them will solve the problem for you.
Protect Your AC Air Quality Today
Once mold makes it into your ductwork, it's time to replace it. Allow professional technicians to root out the problem, help to make sure it doesn't happen again, and install new ductwork to restore your home's air quality today. You and your family deserve it.
Contact us today to schedule AC repair today, and ask about our 12-month money-back guarantee for new AC unit installations.