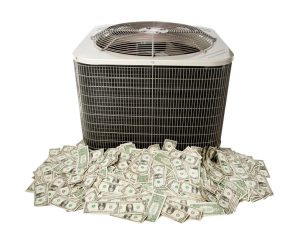 Purchasing a new central air conditioning system is often stressful for homeowners. Not quite as stressful as buying a new car, but the workings of air conditioners and their many stats aren't something people are familiar with. And getting the right new AC installation in Tampa, FL is essential, since you'll rely on it for many days of the year, all around the year.
If you're currently looking for a new AC, there's one stat that may be on the top of your mind, and that's the air conditioner's energy efficiency rating (SEER). Efficiency is an important word in home appliances, and people are always hunting for the best in efficiency so they can avoid higher utility bills. It's a great idea, but it can sometimes lead consumers to focus on efficiency over everything else—and that can end up going wrong, as we'll explain.
The Basics of AC Efficiency
The measurement of the energy efficiency of an air conditioner is seasonal energy efficiency rating, or SEER. This number is the ratio of cooling put out to the amount of electricity consumed. The higher the number, the more efficiently the unit converts electrical power into cooling power. The current ENERGY STAR standard for air conditioners is 15 SEER or greater. Some score in the 20s.
The Cost of High Efficiency
The first caution we have to make about efficiency is a basic one: the higher efficiency an air conditioner, the more it will cost to install upfront. The precision features necessary for improved efficiency (scroll compressors, multi-stage compressors, variable speed fans, inverter technology) make these systems costlier to manufacture. You'll have to consider the long-term energy savings against the higher cost and your current budget. A high-efficiency AC may simply not be the right installation at this time.
High Efficiency Isn't a Guarantee of Savings
This is an essential part to understand about SEER—it doesn't automatically guarantee savings on utility bills. If you simply purchase a system because it has a higher SEER rating, you may end up with a system that doesn't match your house in other ways. There are other factors to consider, other important statistics. Is the air conditioner able to produce enough BTUs of cooling to manage the desired temperature in your house? Does it produce too much cooling, creating large energy waste and a system that starts short-cycling? If the air conditioner isn't ideally suited to your home, it will become an energy waster, no matter the high SEER rating. An air conditioner that has to run twice as long while saving 10% as it runs is costing far too much!
Getting Your AC Installation Right
There's no earth-shattering secret to finding the right air conditioner that balances SEER and other factors: you only need to call HVAC professionals. Our technicians will help guide you to a system that has the energy-saving features you want while also matching your house's cooling needs and your current budget plan. You can get the best of all worlds with our help.
Schedule an appointment with The A/C Guy of Tampa Bay Inc. when you are considering a new air conditioning system. We serve our Tampa Bay family with integrity and honor.