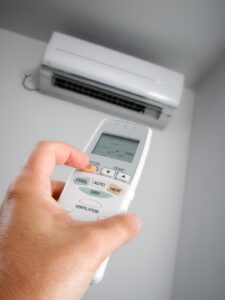 You hear about ductless mini splits all the time. They're the future, they're amazing … but are they? Or are they just new and shiny? We'll cover all the details about ductless mini splits now so you know what works best for you.
Getting a split system air conditioner in Tampa is considered an upgrade, but some of the features they provide might not be worth it to you based on living conditions, number of occupants in your house, and a variety of other factors. Here's what you need to know.
They're More Efficient Than Ducted Units
Your central air system that uses ductwork? It's not as efficient. It doesn't mean it isn't efficient at all, it's just outpaced by a machine that doesn't have to worry about ductwork.
While you can install systems such as smart thermostats to help your central AC become more energy efficient, you can do that with ductless mini splits, too. Apart from the upfront cost, there's no reason not to go with ductless.
They Provide Better Indoor Air Quality
This effect compounds based on the number of mini splits you have. Most homes have anywhere from one to four, and each unit filters air as it pulls it into the system.
One inefficiency of only filtering air through your central air conditioning system's air intake is that it can't possibly filter all the air in your home. While mini splits won't completely filter all the air in your home, they still filter more air.
While we're on the subject, you should also consider an IAQ system to help maintain excellent air quality in your home. When you compound air purifiers with the filtration of mini splits, you can't go wrong.
Faster Installation Period
If you've ever witnessed a central AC installation, you know that the process is long and arduous. It can take a lot longer than most people think. While ductless mini splits still require due diligence during installation, they generally take less time.
If a central AC system is being installed in a new home, or it's replacing an alternative method of cooling, there's a lot of work that goes into it. Running ductwork, installing vents, laying concrete for the outdoor pad. Ductless mini splits offer a much faster installation period.
Less Chance of Defects Over Time
With ducted systems, you have three major issues. Two can be repaired, one is inevitable, and they're all avoidable if you have a ductless unit instead.
Air resistance builds up over time in dirty ductwork
Ductwork leaks and lowers efficiency while increasing your bills
There's efficiency loss simply from air traveling through ductwork
With ductless mini splits, temperature-controlled air is immediately propelled into your living space. There's simply fewer things that can go wrong.
It's Time to Decide
Central air conditioning has its perks, and it's a bit cheaper to install, but does all that really outweigh the benefits of going ductless? Ductless units benefit you more than ducted; now it's time to install one.
Contact The A/C Guy of Tampa Bay Inc. to schedule your split system air conditioner installation as soon as possible.