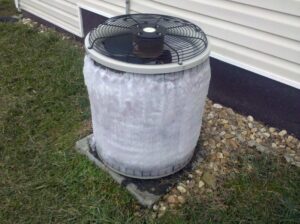 Short cycling is an immediate sign that something is wrong with your air conditioner. It doesn't matter what the cause is: it's bad news. But when your AC freezes up, that comes with different problems than a simple power-related issue.
Before you get air conditioning repair in Clearwater, let's walk you through how you can tell if your AC is frozen or not. If all goes well, the solution to your problem could be right here.
While it's important to get your AC checked out after it's frozen up like that, these fixes should give you peace of mind in the meantime.
It Might Just Be the Air Filter
In your air conditioner, there's a coil that can freeze up. Without proper airflow, it doesn't even take that long for it to freeze and cause problems with short cycling.
The most common cause of bad airflow is a dirty filter. Open your air intake vent and pull out that dusty old filter. Is it bad? Thick with debris? That's (most likely) your problem. An air conditioner can take anywhere from an hour to thaw, all the way up to a full day. It depends on how much ice buildup in the meantime. Let it thaw out completely, run the AC again, and see if the problem recoccurs. If it begins to short cycle, shut it down and call a professional for repairs.
Turn the AC "Off", but the Fan "On"
Normally, your thermostat fan will be set to "Auto" to detect the air temperature and kick on without you having to do anything. That's convenient, but only when your air conditioner works. Right now, the AC is not producing any more cold air, so when you turn the fan on, it continuously runs and brings warm air over your air conditioner cabinet. This helps the thawing process quite a bit. You'll get to the point where you can test your AC again faster than if you leave the fan off.
Refrigerant Leak
If your refrigerant is leaking, it can actually lead to freezing. We know–it sounds odd that the thing keeping your air conditioner cold would actually cause freezing at lower levels.
Refrigerant is kept in a closed-loop system within your air conditioner. It's under a good deal of pressure. With that pressure, it can't expand. When there's a refrigerant leak, it gives the remaining refrigerant enough room to expand and fill up the available space, disrupting the flow.
If you're low enough on refrigerant, the line freezes completely, preventing any cool air from being created (where it counts).
It's Time to Thaw It Out
Your AC is clearly having problems. It's time that we take a look. Not all of these problems have a DIY solution. Whether it's cleaning dirty evaporator coils or inspecting mechanical components to ensure no serious damage occurred from the freeze-up, it doesn't hurt to have a pro take a look.
Contact The A/C Guy of Tampa Bay Inc. today to get a technician out to your AC as soon as possible. Frozen or not, we'll figure out what's wrong.