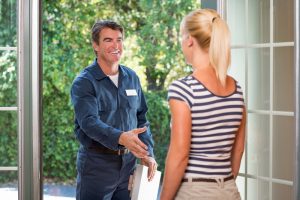 When you have an unexpected air conditioning problem, your first concern is to fix it as soon as possible. After all, you can be without an air conditioner for about fifteen minutes in a Florida summer before your life takes a dramatic turn for the worse. Don't compound the situation, however, by going with the first air conditioning contractor you come across. A major repair or new installation can cost thousands of dollars, and you need to be careful who you choose to do this work for you.
Choosing an Air Conditioning Contractor
You may have the idea—especially in the middle of an air conditioning crisis—to tackle repairs yourself. Don't do it! As the largest mechanical system in your home, a central air conditioning unit requires specialized training and equipment to be serviced correctly. Instead, call an expert in air conditioning services in Tampa, FL.
1. Referrals
One way to locate a contractor is to ask friends, family members, and coworkers for referrals based on who they've used in the past. Beyond this, however, also ask potential contractors for official referrals you can talk to. You might also check with the Better Business Bureau to see if any complaints have been filed in the past, and if so, what they involved.
2. Proper Documentation
Many people present themselves as air conditioning contractors, but there are several types of paperwork you need to see to verify this claim. In Florida, professional contractors are licensed by passing two exams: one about business and the other about the trade. In addition, applicants must have four years of documented experience.
Licensed Florida contractors must be bonded, which acts as a kind of insurance for customers to ensure a contractor will follow state regulations and guidelines. Also, make sure a contractor has workers' compensation insurance as that will protect you from liability for any injuries incurred on the job.
3. Written Estimates & Proposals
Avoid anyone who offers an estimate over the phone without coming to your home. In addition, you want a detailed written estimate to compare bids. Remember: The lowest bid might not actually be the best if the equipment being installed isn't appropriate for your home or has a lower ENERGY STAR rating.
When you choose a contractor, make sure you receive a final written proposal. It will contain additional information not in an estimate including dates work will be performed, itemized labor and equipment costs, payment schedule, and project completion date.
The last thing you want is to be halfway or more through a job only to discover something you thought you'd been promised isn't being delivered because there was only a verbal agreement.
Make the Right Choice
As you can tell, there are key pieces of information you need before choosing an air conditioning contractor. That's why The A/C Guy of Tampa Bay Inc. can be the right choice for you. Plus, our "Seven Standards" are the extra steps we take beyond those of many other contractors to ensure maximum customer satisfaction on every job.
Looking for trustworthy and reliable contractors? Contact The A/C Guy of Tampa Bay Inc. today!