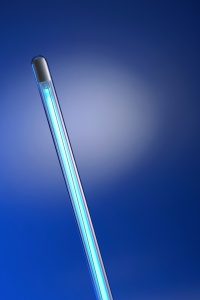 Homes across the US frequently have issues with indoor air quality. Because modern houses are designed to prevent loss or gain of heat through open areas, there's little chance for fresh air circulation to clean out the concentration of indoor contaminants.
Here in Tampa Bay, one of the biggest indoor air quality challenges we face is organic pollutants. Our high humidity makes it easy for mold to develop in parts of our homes, and it also creates a fertile environment for microbes and viruses. Proper humidity control can help alleviate the source of the problem, but when it comes to cleaning these harmful spores and microbes from the air, the best solution is UV lights, a.k.a. UV air purifiers.
What UV Lights Do
The standard UV air purifier is an ultraviolet lamp. The lamp sends out waves of ultraviolet radiation. This is the same radiation that comes from the sun that causes your skin to burn if exposed for too long. The sunburn is an example of what UV radiation does to organic tissue: it causes cellular damage. This is why people are advised to wear sunscreen and sunglasses that are UV-protected.
When used against microbes, mold, mold spores, and viruses, UV radiation disrupts them at a cellular level. This either kills the organic material outright or restricts it from reproducing, making it inert and harmless. The UV light is effective at destroying organic pollutants and keeping them from coming back.
Are These UV Lights Dangerous to My Household?
Not at all. Although UV radiation can be harmful to human tissue (i.e. sunburns), the strength of the UV radiation in a UV air purifier is no stronger than the UV lights used in amusement park rides or at concerts. The lights won't endanger your family or your pets.
In fact, you won't even see the lights in action. The installer places the UV air purifier in the ductwork where it shines along the evaporator coil of the AC or heat pump. From that position, it affects all the air circulating through the ventilation system and keeps the coil free of mold and mildew. The evaporator coil collects moisture as the AC runs, so it's an easy place for mold to start. Not only is the mold potentially harmful, but it also lowers the effectiveness of the air conditioner and puts an unpleasant odor ("dirty sock syndrome") into the air blown around your house.
UV Air Purifiers and More for Indoor Air Quality
At the A/C Guy of Tampa Bay, we carry a range of different IAQ solutions. Among the many Tampa, FL air filtration systems and air purifiers we carry are the best in UV lights. We also install whole-house dehumidifiers. When we put in both a dehumidifier and a UV air purifier for your home, you'll have the best defense against mold and mildew—plus better comfort during summer.
Call The A/C Guy of Tampa Bay Inc. to find out more about our indoor air quality offerings. Serving Our Tampa Bay Family With Integrity and Honor!