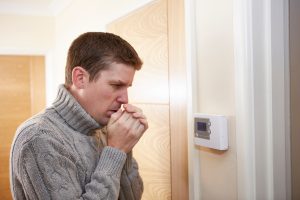 In Tampa, we don't get a lot of use out of our heaters. For most of the year, the "heat" setting on the thermostat remains untouched, and our heating systems get a long rest. So when we do find ourselves in need of heating, it's a big surprise if the unit won't seem to kick on.
What's wrong with your heating system? It could be a case of human error. Or, depending on the type of heater you have, you might have components that need replacement. Of course, an older heater might be in need of replacement—but a qualified company will always check for a possibility of repairs first and foremost. For more information about what may be going on, read further and then call our friendly team.
Human Error: The Thermostat
We see it all too often: a homeowner calls in a technician only to discover they've been setting the thermostat wrong. Have you double and triple-checked the thermostat settings? Make sure the switch is set to "auto," not "off" or "fan" mode. Make sure you've not accidentally entered into vacation or "away" settings—it's an easy mistake to make.
Another potential user error: not waiting a few minutes before calling in technicians. The fan limit switch in a furnace makes it so the fan does not move air through the vents until it's started to heat up. This can take a couple of minutes, so don't turn off the thermostat just yet.
Common Furnace Troubles
The most common heating system in the country is the gas furnace, though electric furnaces are quite common in our part of the country. In any case, one of these issues could be responsible for a heater that won't start:
Trouble with Ignition: If the ignition system won't properly start up, your heater is equipped with safety switches that shut off the unit to prevent a gas buildup or carbon monoxide leak. An older furnace may have a pilot light out, but modern systems use electronic ignition components that may need replacement.
Malfunctioning Safety Switch: It is also possible that the safety switch is malfunctioning and requires replacement.
Broken Fan Motor: You might not feel any heat from the vents because the fan motor is broken, which is also a possibility for a heat pump.
Common Heat Pump Troubles
A heat pump is a heating-and-cooling system all in one. Some people are surprised to learn they have a heat pump rather than a furnace! If your heat pump is not starting properly, these common culprits may be responsible:
Low Refrigerant: A heat pump requires refrigerant for both heating and cooling. Without enough refrigerant in the system, it won't be able to absorb heat and move it into your home. Plus, the system could suffer from major damage without the right levels.
Broken Reversing Valve: The reversing valve is the component that allows the system to go from heating to cooling and vice versa. If you can cool your home but not heat it, this component might be the problem.
Electrical Issues: Any number of electrical problems could affect a heat pump (or a furnace, for that matter). You may want to try resetting the circuit breaker before calling in technicians.
If you cannot solve it yourself, call a technician for heat pump or furnace repair in Tampa, FL ASAP. Contact the friendly team at The A/C Guy of Tampa Bay Inc.