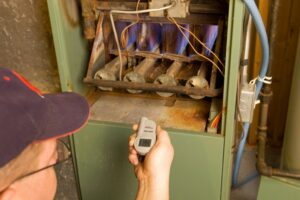 The New Year is here and our weather is … nice! Pleasant days in the 70s. This is why Tampa is such a popular spot for winter vacations. And during weather like this, it's easy to forget that you have a heating system in your home that needs regular service to keep it in prime condition. The winter isn't always sunny days for us—the cold snaps and storms will make an effective home heater a necessity.
So we want to talk to you about maintenance for your heater. Have you had it done already? If you have, great. If you haven't, we don't want you to believe that the start of a new year means the opportunity has passed and you might as well forget about it until fall. This isn't the case at all! Since our winter weather tends to arrive late, you may be right on time with scheduling heating maintenance now.
But is there any harm in skipping it for a year? Well, yes. The benefits of heating maintenance are tremendous, and we want to remind you what you can avoid when you stay current with it for each winter.
You'll avoid the majority of repairs
We offer great heating repair in Tampa, FL, but we know you would rather not have to call us for repairs in the first place. Annual maintenance is the best way to keep from needing repair service during the season. The work we do to maintain your heater will help it avoid the majority of repairs it would otherwise need.
You won't end up paying more for heat than you should
A heater wears down with use, and time isn't always kind either. This wear and aging will cause a heater to drain more energy than necessary to run, and this will show up on your monthly energy bills as higher charges. You might see a 5% jump per year without maintenance, and that adds up quickly.
You'll stop the heater from going into early retirement
Maintenance prolongs the service life of a heating system, helping it to reach its manufacturer's estimated lifespan. Lack of maintenance is one of the main causes of heating systems failing years earlier and forcing their owners to sink money into an expensive replacement they could have delayed by several years.
You'll prevent the warranty from being voided
Did you know that most HVAC equipment warranties require proof of regular maintenance to remain valid? Missing maintenance can turn your warranty into nothing more than a piece of paper: it won't protect you from having to pay for repairs that would otherwise be covered.
You'll avoid safety concerns
If you use a gas furnace, it's critical to have it professionals inspected and maintained each year. This helps to keep the system running as safely as possible. You'll have a few concerns about safety with your heating system if you have regular maintenance. 
To get started with your heating maintenance, you only need to join our VIP Club. That will take care of your heating and air conditioning maintenance.
The A/C Guy of Tampa Bay Inc. serves our Tampa Bay family with integrity and honor. Sign up for our VIP Club Membership today.