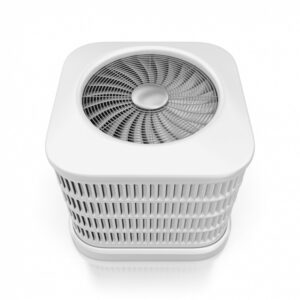 Earlier this year, we wrote a post about the cooling limits of an air conditioning system in a home. This is called the temperature differential of an AC, which is how much the air conditioner can lower the indoor temperature compared to the outside. The temperature differential for residential ACs is 20°F.
Of course, this doesn't mean every air conditioner can work the same for every house. A small air conditioner may be able to lower the temperature by 20°F, but for only a limited area. This is the air conditioner's capacity, which is separate from the temperature differential. The capacity of an air conditioner is how many BTUs of heat it can remove from a house in an hour. For example, a small window AC can remove about 5,000 BTUs/hour from a space, but this is only enough to cool down a single room. Larger central ACs can remove 12,000 to 60,000 BTUs/hour.
So if your current air conditioner doesn't feel like it's delivering the level of comfort your house needs, leaving many hot spots in rooms, you might think the answer is a bigger AC. This sounds sensible—but most likely isn't the solution you need.
Why Bigger Is Rarely the Answer
Before we go any farther, we need to know this about your home's AC: how many summers have you had it? If the answer is two summers or more, then the size of the air conditioner most likely isn't the problem. Was the air conditioner doing the job you needed from it when you first got it? Then that means the AC is the right size for your home.
When you work with professionals to handle putting in new air conditioning in Clearwater, FL, the unit will match your home's cooling needs. Proper sizing of an AC is a critical part of installation. Technicians take special measurements to ensure that the air conditioner is large enough to provide cooling throughout the house, but not too large so it wastes power and shuts on and off too frequently.
If you're experiencing a drop in cooling in your home from a once-reliable air conditioner, then the system is malfunctioning. For an air conditioner that's in the 10 to 15-year range, this drop in capacity may mean the system needs to be replaced (although not with a bigger AC). For younger air conditioners, technicians can use targeted repairs to get everything working again.
When a Bigger AC Is the Answer
If this is the first summer you've had with your AC and it isn't doing its job, then it may be too small for the house. This often happens when amateurs attempt an installation and they make a guess how big the cooling system needs to be. The only solution to this problem is to have professionals replace the system with one that's correctly sized. 
You can put your trust in our team to always give you honest answers about the best way to cool your home. We'll help you find the answer to your current cooling troubles.
When you need the best in local air conditioning, look to The A/C Guy of Tampa Bay Inc. We serve our Tampa Bay family with integrity and honor.