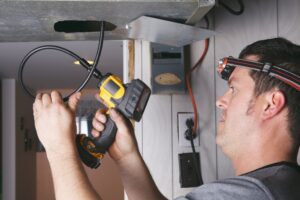 Your ducts run into problems, but it's not just as simple as "This duct is leaking, let's seal it up." There are other issues you can encounter, and for a system that delivers your temperature-treated air throughout the entire house, you really need to pay attention to every problem as it pops up.
When you call for AC duct repair, it could mean multiple different types of repairs. Let's walk through them all right now so you can get a feel for what these duct repairs are, and why they matter so much.
Improper Installation
You shouldn't need duct repair all too often. You might even go a decade before you truly need something in your ductwork fixed, but if it's installed improperly, those problems pop up much sooner.
When your ductwork isn't installed properly, leaks happen, damages can occur faster, and airflow around your house will be uneven. If it feels like one vent in your home has strong airflow, but another is weak or barely producing enough air, this could be why.
The biggest concern is that this leads to massive energy waste and inefficiency, which can force your air conditioner to work harder than it's supposed to and wear it down faster.
Bad Insulation
Did you know your insulation can go bad? Well, in a sense. It depends on the type of insulation that you have. Certain insulation can last up to a century (yes, you read that correctly). Other types will expire in about 15–20 years.
They break down and degrade, slowly reducing your home's energy efficiency over time. This is important because your ductwork insulation, if it's made out of fiberglass, might be causing problems when you try to heat or cool your home.
If your ductwork hasn't been changed out in over a decade, it's worth entertaining the idea that the insulation could be causing you to spend more energy than you should to heat and cool your home.
Air Leaks
You pay money and spend energy to temperature0treat air in your HVAC system. It's then supposed to flow through the vents, and change the temperature inside your home.
Then leaky ducts cause two big problems that directly affect your ability to heat and cool your home:
Less temperature treated air makes it to its destination.
Air pressure problems (due to leaks) makes it harder for air to travel.
Air leaks can also cause mold problems if warm air seeps into your attic and walls, creating a high relative humidity level and trapping moisture in dark spaces.
Time for Repairs
If your HVAC unit is the heart of your home, then consider the ducts to be its arteries. These repairs highlight some of the ways that your ductwork constantly keeps your indoor air quality, heating, and cooling at peak levels.
Whether your ducts are leaking, or they just aren't producing enough airflow, you owe it to yourself to have your ductwork looked at and repaired. There's no time like the present.
Contact The A/C Guy of Tampa Bay Inc. today to schedule your next duct repair as soon as possible and start to feel the difference.