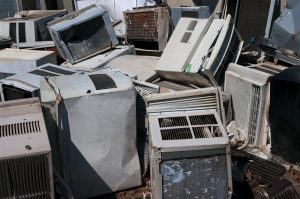 If you are asking this question, it means you have reason to believe the current air conditioning system that cools your house is coming to the end of its service. People often begin to consider replacing their residential AC in the fall, right after another intense Florida summer. Maybe the air conditioner struggled to maintain proper comfort on the hottest day, the cost to run it has risen, it needed a pricy repair—or needs a pricy repair right now.
When you consider the question of whether it's time for a new AC system installation in Tampa Bay, FL this fall or not, you'll consider the age of the air conditioner. What is considered "too old" for a central air conditioning system?
The Average Lifespan of an AC
The modern air conditioning system can last on average between 10 to 15 years, although a few might last for 20 years. An air conditioner that receives professional maintenance every spring should make it to 15 years with few problems. (Without maintenance, an AC can fail earlier than 10 years—yet another reason to always keep up with spring maintenance.) With an air conditioner that's older than 15 years, we recommend giving serious consideration to replacing it. A new AC will probably have a better energy efficiency rating than the current one did even when it was first installed. And there's the option to purchase a special high-efficiency air conditioner, improving savings even more.
The Age of an AC Is Not an Absolute Answer
Using the age of an AC as the one and only guideline for when to replace an air conditioner isn't the best way to decide about air conditioning replacement. For example, if you have an AC that's 12 years old and still running well, you might be able to save more money in the long-run with a new, high-efficiency cooling system.
There are other indicators of an AC that needs to be replaced unconnected to age. We've already mentioned a few of them above. Here's a quick breakdown:
The air conditioner costs much more to run than it once did, and maintenance hasn't changed this.
The AC has needed multiple repairs during the past few years. More than two repairs a year is too much, and any repair that costs more than 50% of the price of replacing the air conditioner is also a sign it's time for a new AC.
The AC can no longer keep up with the demands of daily hot weather in the summer, leading to hot spots around the house and forcing you to keep turning down the thermostat.
An HVAC Professional Can Give You the Best Help
We recommend that you get an expert opinion about whether you should replace your air conditioner. Call one of our technicians to come to your home and look over the AC. We offer honest answers to all questions and we are always looking out for our customers.
Call on The A/C Guy of Tampa Bay Inc. to schedule an air conditioning replacement. Serving our Tampa Bay family with integrity and honor.