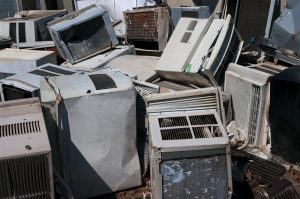 You know that any major appliance in your house has a limited service life. Proper care can push an appliance to several extra years, but at some point it will wear down beyond where repairs are cost-effective.
You've probably wondered about how long your central air conditioning system will last. This is natural in our hot and humid climate where ACs are vital for making it through much of the middle of the year. Considering all the work your air conditioner puts in during summer, how many years can you expect to have it before you need a new AC installation in Tampa, FL? Below we'll look into the question and offer some advice about air conditioning replacement.
The Standard Service Life Estimates of ACs
The straightforward answer to the question of how long a central air conditioning system will last is 10 to 15 years. This is the service life estimate most manufacturers provide for their equipment, and it's the reason most warranties are for 10 years.
But as with any estimate, there are several factors that can affect the years an air conditioning system will run effectively and efficiently. The most important is maintenance. The 10–15 year estimate only applies to air conditioning systems that receive regular professional maintenance. We recommend maintenance each spring to help the unit prepare for the summer heat. Maintenance reduces strain on the system and prevents malfunctions that can reduce the AC's service life. Without maintenance, an air conditioner will age faster. A system that doesn't have any maintenance may only last half its service life estimate—that can mean having to replace a system after only 5 to 8 years, a significant loss.
Other factors that can affect an air conditioner's lifespan are how much work it does and local climate conditions. Florida humidity and heat can put immense strain on an AC, and the high moisture level is a prime force in causing a system to break down early. This is why we encourage stringent maintenance: it's difficult to get an AC to 15 years in our climate without it.
Don't Run Your AC Until It Fails Completely
You may think that figuring out the service life of your air conditioner isn't vital—you'll just run it until it can no longer run. We don't recommend this approach, the same way a mechanic wouldn't recommend you drive your car until it fails for good on you when you're on the freeway. One reason is that any AC will begin to lose its cooling capacity and start to waste energy long before it has a final breakdown. Once an AC is over 15 years, it will drain more power and provide less effective cooling. You could put that money toward a new system.
You also don't want the air conditioner to fail you at a time when you need it the most. You'll be stuck with an uncomfortable house while trying to arrange for a full system replacement. Get ahead of this problem and have the AC replaced on your own schedule!
Call The A/C Guy of Tampa Bay Inc. when you're ready to replace your air conditioning system. We serve our Tampa Bay family with integrity and honor.