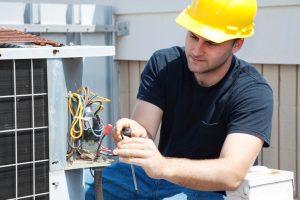 Your air conditioner is going to run into a variety of problems throughout its lifespan–though hopefully, our professional maintenance services will help keep these issues to a minimum! That said, when your air conditioner needs help with electrical issues, you'll want to get your AC repairs in Clearwater, FL scheduled ASAP before that repair need becomes a replacement.
So what kinds of electrical problems might your A/C encounter and what is the best way to deal with them? We will answer these questions and others below.
Possible Electrical Troubles in Your A/C
There is more than one issue that the electrical parts to your air conditioning system might run into. Here are a few key ones that you should know about:
Failing Capacitors: The capacitors in your air conditioner are responsible for helping your system start up and for regulating the flow of electricity to your compressor, condenser, and blower motors. Problems with these capacitors can lead to delayed start-ups, faulty operation, or even a full system breakdown.
Wiring Problems: Ever noticed that the wires for your phone charger wear out over time? The wiring for your AC is no different. Regular use creates wear and tear that will eventually lead to problems with the wiring in your system such as wires that disconnect, overheat, or can't carry an electrical current.
A Bad Breaker: Your electrical breaker is a part of your home's electrical system that protects both you and your home from electrical threats such as fires.
Signs You Need Electrical Help for Your AC
So what might the indicators be that the issue in your air conditioning unit is electrical in nature rather than another part causing trouble? Watch out for these potential warning signs:
An AC That Doesn't Respond Right: Does your air conditioning system refuse to turn on sometimes? Or maybe it seems to have trouble fully turning on or shutting down at the end of a cycle. If your system isn't responding right to the commands of your thermostat, it may be due to electrical issues.
You're Electrical Bills Are Too High: Your energy bills are going to be great indicators of whether or not something is wrong with your AC system. If you have electricity bills that are skyrocketing excessively, you should have your electrical system checked out.
There's Been a Recent Power Surge: Have you had a storm or other incident that has caused a recent power surge in your home? If so, even if you have a power surge protector, it is important that you have your electrical system looked at by a professional before running it again.
If your air conditioning system hasn't been operating quite right, our team of professional technicians can get the issue resolved. We are trained to handle all types of possible A/C issues from broken fan blades to faulty capacitors. It is important to have a professional perform these services in order to ensure they are done right.
Need help with your A/C? Contact The A/C Guy of Tampa Bay Inc.